HOLYMOORSIDE CHORAL SOCIETY
Holymoorside, Chesterfield, Derbyshire
News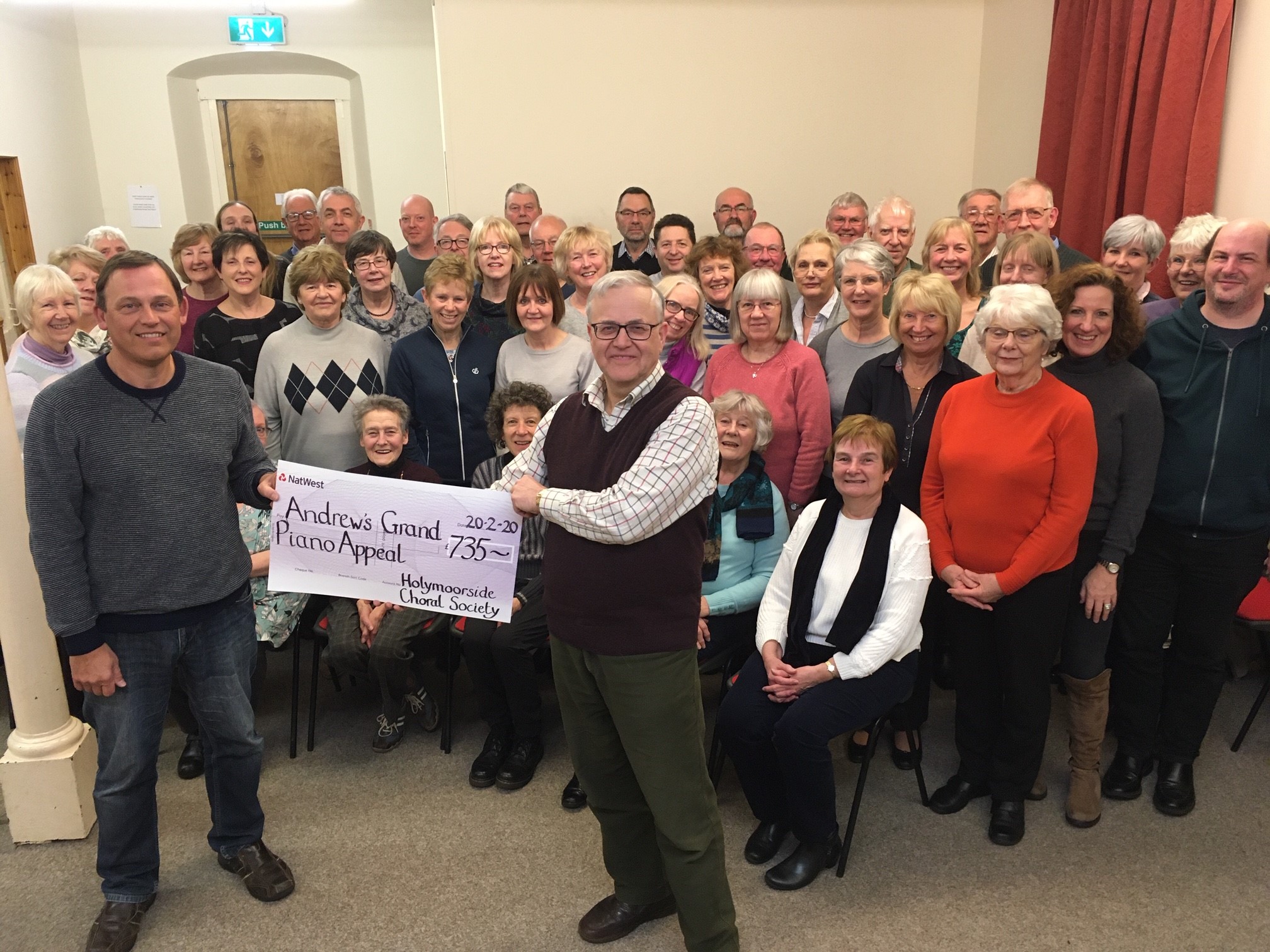 For nearly 50 years we have raised money for local charities through the proceeds of our Christmas Charity Concert.
In 2019 it was decided to support an appeal launched by our Musical Director, Andrew Marples - to raise £9,000 to replace the Chesterfield community Grand Piano.
In 1990 Andrew co-founded a Saturday lunchtime concert programme in Chesterfield Library Theatre. All the concerts are organised voluntarily and run solely on audience donations. No funding of any sort is received, but Derbyshire County Council give the superb venue free of charge. The concerts are well-supported with an average audience of 100 attending.
Andrew personally organises the 16 concerts a year - performing as soloist or accompanist in many - and has done so for 30 years. To ensure the series could continue well into the future, a replacement for the worn-out grand piano in the Theatre was required.
The piano is used in 80% of the lunchtime concerts and is a vital community resource - over the years almost 450 Saturday lunchtime concerts have been performed in every style (classical recitals, choir concerts, jazz sessions, folk groups, orchestras, young performers platforms, etc) using over 5,000 musicians and audiences numbering 50,000. They are truly community events and a cultural lifeline for so many people.
Funds had to be raised by public donations and Andrew took on the responsibility to head up an appeal.
The choir was pleased to contribute £735 from our 2019 Christmas Charity Concert, and also to announce that the new Grand Piano (actually a very high quality second-hand one) has now been sourced, purchased and installed in Chesterfield Library Theatre. Details of the concerts in Chesterfield Library or: www.visitchesterfield.info
Congratulations to Andrew and all those who have helped to raise the £9,000 required to ensure another 30 years of music-making!
The support of our Christmas audience is greatly appreciated for enabling the continuation of our charity giving.
If you would like to propose a charity for us to support at Christmas, please contact the Secretary.
Tel no. 07989 305577 or email: info@holymoorsidechoral.co.uk