HOLYMOORSIDE CHORAL SOCIETY
Holymoorside, Chesterfield, Derbyshire
News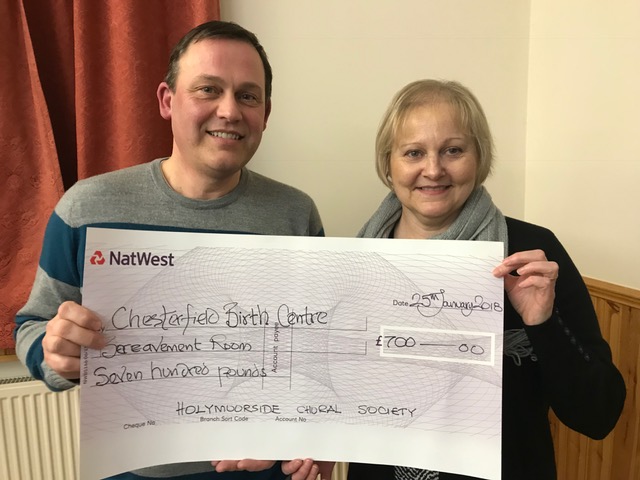 For almost 40 years we have raised money for local charities through the proceeds of our Christmas Charity Concert.
We usually focus attention on causes for children. This year we agreed to make a donation to assist with the refubishment of the Bereavement Room at the Chesterfield Birth Centre estimated to cost in the region of £7,000.
It is an essential space where parents and extended family can spend time together and begin their grieving with their still-born baby. The room needs to be made more homely and self-contained. A kitchenette is required as well as more comfortable furniture and sympathetic decoration.
We were delighted to be able present a cheque for £700 from the concert proceeds. The centre matron, Julie Clarke came along to receive it on behalf of the centre. We were also pleased to pass on a further £140 received as a part refund of our venue charge. This created a donation of £840 in total.
The support of our Christmas audience is greatly appreciated for enabling the continuation of our charity giving.

If you would like to propose a charity for us to support at Christmas, please contact the Secretary, Tel no. 07989 305577 or email: info@holymoorsidechoral.co.uk